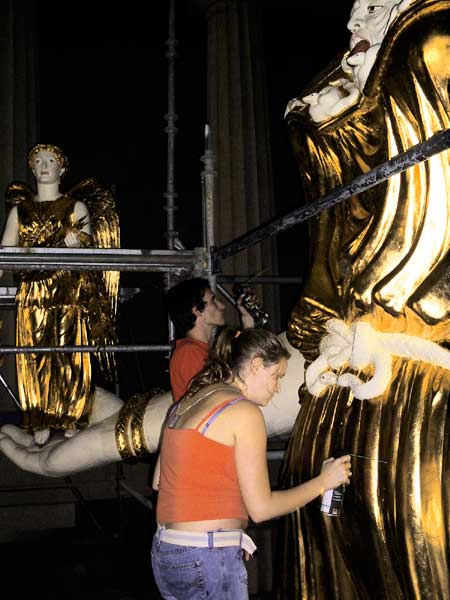 It's pandemonium this week! The sounds of the scaffolding coming down are incredibly loud and nerve-wracking. Slabs of metal flooring drop with a BANG, wrenches screech against pipe fittings, and watching the pipes swinging through the air so close to the statue is almost more than we can bear.
Everyone's running around, and time is running out for us: soon we won't be able to reach Athena, already we have lost access to her head and helmet. We scurry up the scaffolding as the layers come down for one last look. Does anyone see anything? A scratch, a scuff, a missed spot? Who has cotton, can I borrow your mop? We arm ourselves with cans of air to blow off clinging bits of gold. We have quick-size, we have gold, we are ready for anything!!
Here Luke and Alison are blowing canned air on the gold. Nike looks on, bemused.